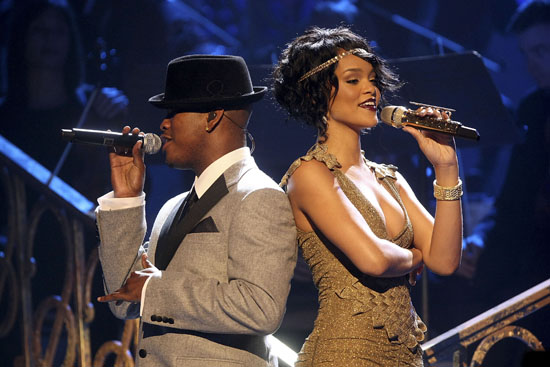 Russian Roulette is usually played out in movies during gangster shakedowns, and it's a common form of suicide for real-life soldiers and police officers. The game entails loading a single bullet into a six-round gun and pulling the trigger to decide whether you live or die.
Singer and actor Ne-Yo decided to make the deadly game into an art form by writing the song "Russian Roulette", and the Grammy Award winning songwriter immediately imagined mysterious, sexy singer Rihanna sitting across a table from someone with a gun between them.
Well, it's not too hard to imagine Rihanna across the table in a civil dispute because she acted out a similar scene in a music video with Maroon 5 frontman Adam Levine in the remix of the band's hit song, "If I Never See Your Face Again".
Not long before, Rihanna recorded a video with Ne-Yo for their hit duet, "Hate That I Love You", that Ne-Yo penned. Ne-Yo also wrote Rihanna's hit song, "Take a Bow".
So Rihanna didn't hesitate when Ne-Yo asked her
to sing "Russian Roulette", and the song is the first release from her fourth album
Rated R
, due out Nov. 23.